Eco Spirituality Group
Thurles Parish Eco Spirituality Group was formed in 2015 inspired by Pope Francis's encyclical "Laudato Si', On Care for Our Common Home" The group considers appropriate responses that we as Christians might make in addressing the many challenges arising from climate change.
The Vision we have chosen for our endeavour is:  "We care for the earth because it is God's earth"
Thurles Parish Eco -Spirituality Group highlighted International Earth Hour on 25th March. This is an annual campaign that brings attention to the effects of climate change by asking people to switch off non-essential lights for one hour on Saturday 25th March between 8.30pm and 9.30pm. The campaign was started in Sydney, Australia in 2007. This was the 10th Anniversary. Leaflets about Earth Hour with some eco tips were made available in both churches. The tips are simple and easy ways for all of us to do a little to reduce our carbon footprint.
Simple Actions for Climate Justice:
• Turn off lights when you leave an empty room.
• Switch off and unplug TV's, chargers, laptops etc when not in use.
• Do not leave the tap running while preparing food or brushing your teeth.
• Buy locally produce food and plan your shopping to avoid wastage.
• Plant trees and shrubs.
• Reduce, Reuse, Recycle.
• Encourage family and friends to do all of the above.
Prayer.
Creator God, you have generously blessed us with an abundance of gifts in this, your world. Help us to share in that generosity by living in a way that ensures that your gifts will continue to be available for present and future generations.
O God, fill us with love and respect for the whole of Creation.
The group discuss elements of Laudato Si' each month reflecting on Pope Frances's encyclical letter.
One of the highlights of Lent 2016 was the planting of an Oak tree in the grounds of Bothar na Naomh Church to mark National Tree Week on March 6th. . We were delighted that Jason Rice, representing Trocaire, accompanied us on that occasion.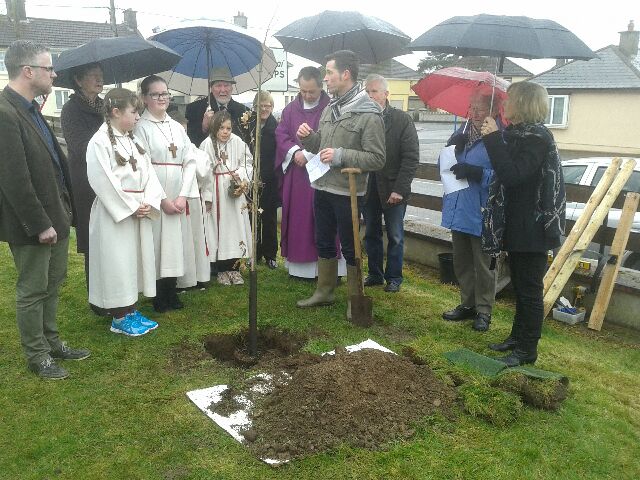 The unveiling and blessing of a stone plaque to commemorate the planting of this Oak tree was held after Mass on Sunday 27th November, supported by local parishioners.
Inscription on the stone plaque
'Praise be to you, Lord, through our Sister Mother Earth'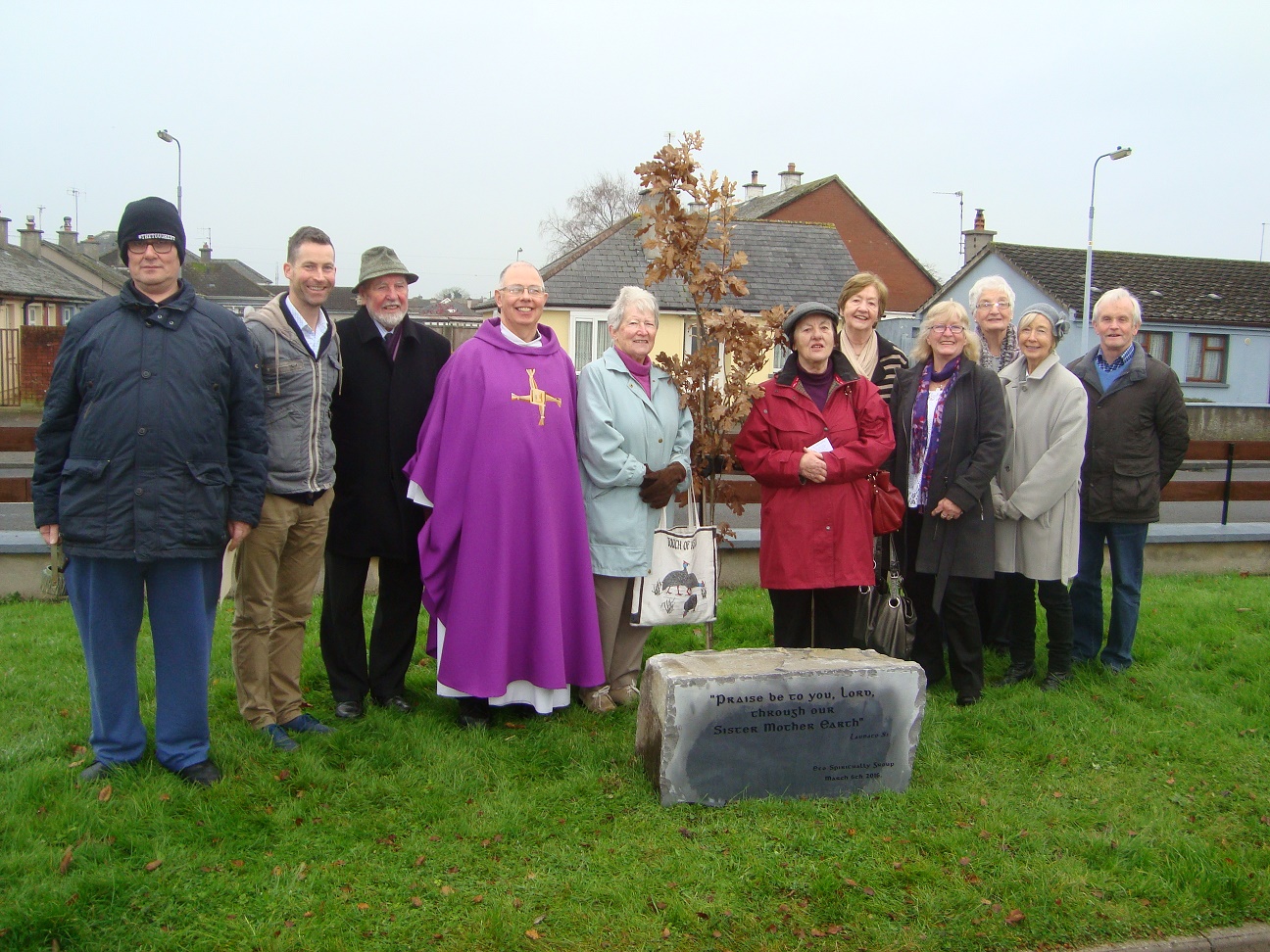 The group provide appropriate prayers, with an environmental theme, to be included in the Prayers of the Faithful at Parish weekend Masses during Lent and on the Feast days of St. Brigid and St. Frances of Assisi.
Furthermore the group insert an 'eco-tip' in the Parish News Letter each month to promote awareness of care for the environment.
The group meets for one hour monthly from October- May in the Parish Centre Cathedral St.
Further information at the Parish Centre 0504 22229