Cathedral Bell Tower, Stone Repairs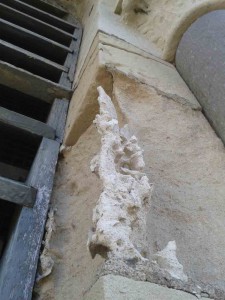 A detailed inspection of the bell tower was carried out by the conservation architect, following the erection of scaffolding in October 2012.  This revealed significant erosion of the softer (off-white) Portland Stone with loss of architectural detail.  In some cases (see photo), the stone had eroded to the point where the entire face of the stone had disappeared.  This erosion is due to the action of moisture, which has become trapped within the fabric of the tower due to the presence of cement mortar pointing (dating from the mid-twentieth century).  The scope of work was amended to include the removal of cement pointing from all joints on the Portland Stone and its replacement with (breathable) lime mortar.  Any stones that had been badly eroded were replaced and repaired using stone grafts. The project was completed in September 2013.
Statue Repairs – Progress Update –  April 2013
The statue of Jesus on the side (east) gable had multiple fractures due to corrosion of the iron cramps within the stone.  Remedial work was carried out to include the removal of some cramps, dowel fixing of the stone pieces, and stone mortar repair.  This statue has been cleaned.
The statue of St. Patrick adjacent to the bell tower on the front (south) gable, was found to have significant cracking.  This was added to the programme of work.  A regime of monitoring will be set up for all statues on the Cathedral.  It is likely that repairs will be required to some of the other statues in the coming years.
Cathedral Bell Tower, Remedial Work to Steel Gantry – April 2013
The gantry between the bell tower and the attic of the Cathedral was inspected in detail.  The corrosion was found in the steel support beams under the gantry.  This has caused localised fracturing in the stone on the tower and the external wall of the Cathedral.  Remedial work was carried out to the gantry and the stone.  The gantry was temporarily propped from the scaffolding, and the existing supports were removed and replaced with stainless steel beams.  The fractured stone were dowelled in place and re-pointed.
Roof Repairs – April 2013
The roof of the Cathedral was re-slated in fibre cement slates in 1979.  The roof has been inspected internally and externally.  The location of a particular leak was identified and repaired.  Loose slates and cracked ridge tiles were repaired during the programme of works.  Some localised rot was found in the attic timbers.  This was inspected by a timber specialist and the timbers will be treated. The condition of the slates suggests that further repairs will be required annually over the coming years to ensure that the roof remains weather tight.