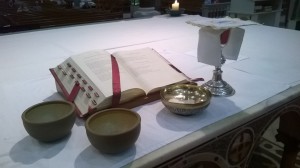 First Holy Communion is such a normal part of Irish life – about 60,000 young people make their First Holy Communion each year.
If you are Catholic, chances are you have been through it too.
What memories do you have of your own First Communion?
– The Communion suit or dress.
– Can you recall the event or the feelings you had on that day or in the lead up to it?
– Can you remember what you had been told about it?
It all becomes real again for parents and guardians who present their son/daughter or children for the Sacrament.
As parents/guardians what are your feelings now? Are you excited? Are you not excited but you would still like your son/daughter to make the First Communion?
Ask your child to think about making or not making First Communion. What response might you get? It might include the following….. 'I thought I'd be left out and I wouldn't have a good feeling for the whole year that I am not going to make it', 'I love the idea of having a party and I love having photos with my friends…'
Maybe your child is very excited about making Communion but perhaps you as a parent/guardian may have mixed feelings about it…
Parish Preparation:
We welcome all parents/guardians to our preparation programme for First Holy Communion. It is preparation involving parish, school as well as parents/guardians.
In conjunction, with the Alive-O school religion programme (outlined below), Thurles Parish supports parents/guardians in the preparation of their child/children as follows:
An Enrolment Ceremony for the children from each school at our Sunday Masses (September)
A meeting of Parents/Guardians of each school facilitated by the chaplain of each school (October/November)
A Commitment Ceremony for the children from each school at one of our Sunday Masses (January/February)
The celebration of the Sacrament of First Confession for the children of each school conducted by the school chaplain
First Holy Communion Ceremony at one of our Sunday Masses (May).
Throughout the year of preparation for First Holy Communion parents/guardians are encouraged to attend Sunday Mass including our monthly Family Mass with their children.
The purpose of the parish preparation programme is to encourage parents/guardians in the preparation of their child/children for First Holy Communion and to support the excellent work done by the teachers in our schools.
School Religion Programme:
The Religion Programme is about giving the young people skills which will enable them to cope with life. The young people learn in an age appropriate way about the life and work of Jesus. They are taught that Jesus is their friend.
They are taught about the Last Supper when Jesus blessed the bread and wine and gave it to the disciples and told them to remember him by it. That is what we share with the young people for First Communion. And the sharing goes on well after First Communion too.
The Religion Programme that the young people are following in the school is called Alive-O.
The central theme of it is "The glory of God is a person fully alive" .
This theme is gradually developed through the four years prior to Holy Communion as follows:
Junior Infants: I am Special.
Senior Infants: You are Special.
First Class: We are Special.
Second Class: Connected and Reconnected. Connected with our Community and re-connected, reconciled with one another after we might have let one another down.
Invitation from Thurles Parish:
You are invited to enter into the preparation of the First Holy Communion of your child/children by
(i) Following the Alive-O Religion Programmed and by
(ii) Participating in our Parish Preparation Programme.
Further information is available through your school chaplain.