Youth Together – latest news:

We currently have between 35 – 40 young people meeting on one Friday night per month.  There are fun-filled activities on the agenda every night – but these also have a deeper meaning.  Meditation and quizzes, team-building and guest speakers, walking debates and art & craft all form part of the programme – but these are means to explore self-identity, trade and justice, decision making, gender stereotyping, leadership… the list is endless.  And when our year is completed in May/June, a trip away together completes the circle.  All of these elements from part of our yearly plan, along with talking, listening, sharing, laughing and guiding.
Archbishop Oscar Romero said…
'We plant the seeds that one day will grow,
We lay foundations that will need further development.
We may never see the end results, but that is the difference between the Master builder and the worker.
We are workers, not Master builders, ministers not messiahs.  We are prophets of a future not our own.'
We are Glad to be the workers –
Deirdre Lanigan, Fr. Vincent Stapleton, Phyllis Kennedy, Siobhán Maher (Leaders)
The Story of Thurles Youth Ministry – Journey in Faith
Thurles Parish Youth Ministry has been in existence formally since 1999.    Ministry with and to young people takes place in many forms, in homes, schools, youth club, pilgrimages and parish – anywhere, people of faith recognise the gift of young people. Thurles Parish Youth Ministry aims to provide vision and leadership in effectively reaching and building our young church.
Youth Together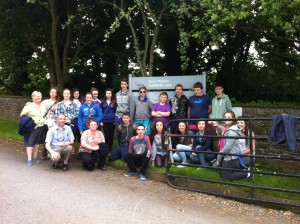 This is a project involving teenagers from our secondary schools. On one Friday night per month, teenagers meet in their year groups for a night of fun – with a purpose! It involves playing games, watching movies, debating, acting, team-building, meditating, art and craft, listening to speakers, going on trips……….and a lot more – all with the purpose of helping the teenagers to grow as individuals, mentally, physically, spiritually.
As  the Youth Together year draws to an end, we would like to thank all those involved – especially the leaders and the young people. These teenagers are the lifeblood of the parish, and the future of the parish will be safe in their hands. The year ended on a high, as the teens travelled to Ballyhass Lakes Activity Centre, in Co. Cork, for a day of teambuilding and real adventure. From kayaking to the low-ropes course, and from zip-lining to the Leap of Faith, nothing stopped this group. No challenge was too great – or too high!  Roll on 2015-2016!! If you are a teenager who would like to get involved, just contact the group through the Parish Centre.
Youth Choir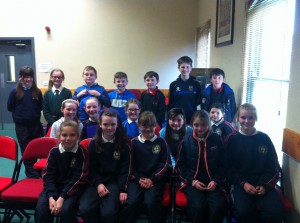 Thurles Youth Choir was established in Thurles parish in September 2007. Open to boys and girls in 4th, 5th and 6th class in our parish, the choir has gone from strength to strength. The choir has been fortunate in its short existence, to not just have opportunities to participate at the Saturday vigil mass in the Cathedral, once a month – the Family Mass, but also to star at the Christmas Carol Service, to perform at the Source Art Centre, and to accompany Liam Lawton at a concert in the Premier Hall. No matter where the choir members travel and perform, they do our parish proud.
The choir rehearses every Tuesday, from 4.00 to 4.40 p.m., in the Parish Centre. The young people are full of energy and enthusiasm, and the choir rehearse with the same life as they perform! Each person has their own favourite hymn for performance, from the traditional Irish, to negro spirituals, and even some from the world of popular music. Hymns range from Liam Lawton's "I Will be the Vine" to "Lean on Me". There really is something for everyone.
The choir has also been fortunate to have the adults committed to leading this fantastic group. Over the years, the team has included Maria McElgunn, Rosalie Maher, Michelle Skehan, Caitriona O'Mahony and Patricia McElgunn. . Míle buíochas as ucht bhur obair go léir. Deirdre Lanigan and Ciara Lanigan now look after the choir and have been joined by  a very talented musician. It really has been a case of "Many hands make light work"!
Why be involved in the choir? Well according to the children…I love to sing…I practice my singing in the shower…You are serving God…You get to be with your friends…It's a good way to be involved in the mass…You are with the community serving God…It's fun! 
Thurles Teen Spirit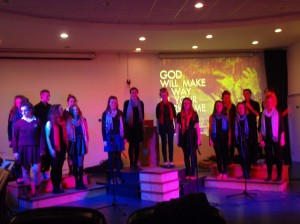 A music-based programme, Thurles Teen Spirit seeks to bring Junior Certificate to Leaving Certificate students together, to work on a performance of religious and secular faith-based music.  The young people choose the music, practise both vocally and with instruments, with the purpose of performing, and raising money for a nominated charity.
Family Mass Group
Team members organise the celebration of a Sunday Eucharist which is suited to the needs of families with younger children.  Young people are encouraged to get involved as readers, gift bearers and as actors.
For further information on any of these projects, contact Deirdre through