THURLES PARISH PASTORAL COUNCIL:
At the Parish Pastoral Council meeting on Wednesday, 11th October there was an overwhelming expression of delight at the remarkable success of the Farewell Event hosted for our '3 boys'!! Fr. Martin, Fr. Gerard and Fr. Tomás. We congratulate the many, many people who came forward so willingly to create this historic event – MCs; Hall Decorators; Flower Arrangers; those who supplied and served food; those who submitted photos and compiled the slide show; Youth Welcoming Group; Musicians and Singers; Secretarial Team, Liturgy Group; Hall Committee; Evening of Farewell Organising Committee – to name but a few. A memorable night was had by all. How wonderful to see our community so vibrant and alive in this expression of gratitude.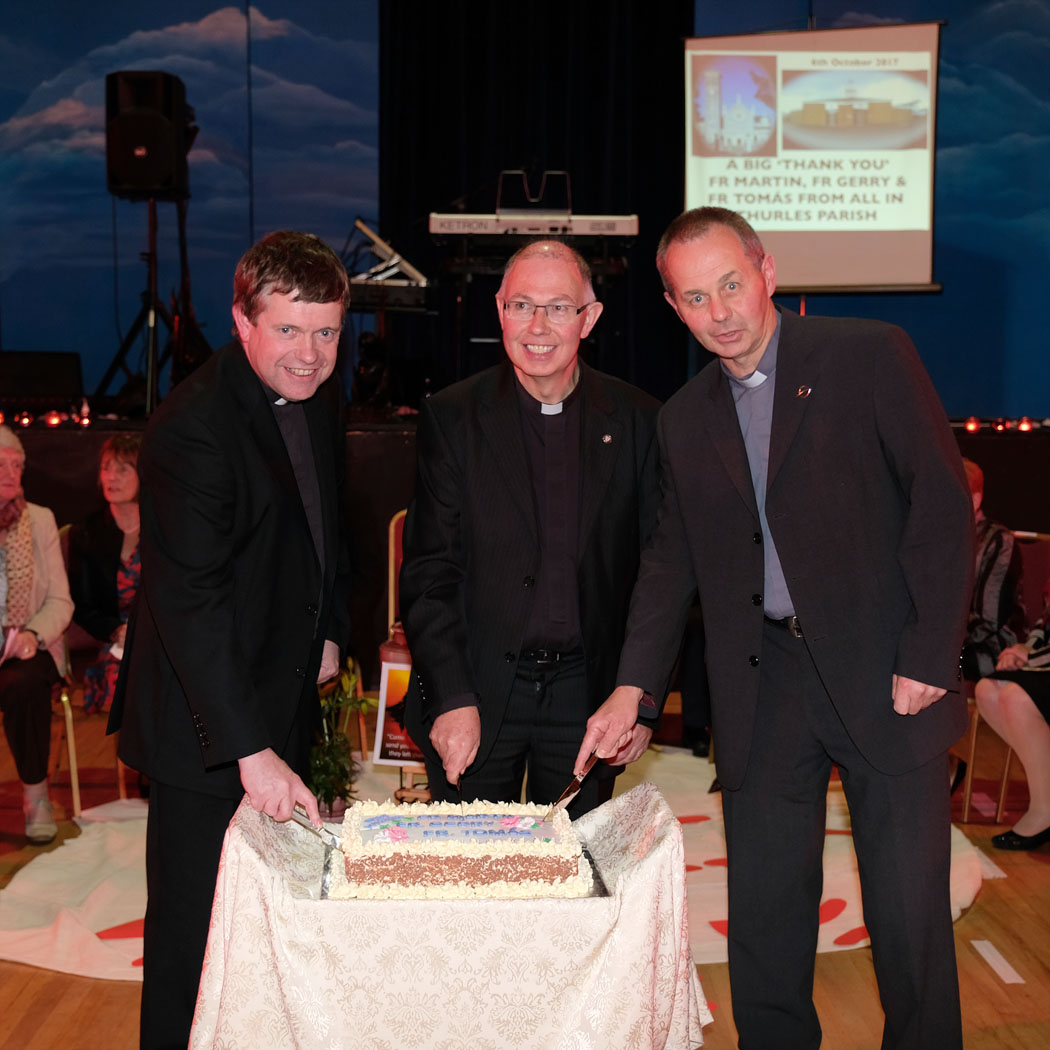 EVENING OF FAREWELL – OCTOBER 6th 2017
THURLES PARISH PASTORAL COUNCIL: UPDATE
We are grateful for the response to our invitation to parishioners to participate in the development of our Parish Pastoral Council (PPC); in terms of the number of nominations received and in particular, the attendance at our four PPC presentations – see links below.  It means that more parishioners can now appreciate the value of a PPC for Thurles Parish.
Our  PPC Training / Discernment guided by Fr Eamonn Fitzgibbon (MIC, St Patrick's Campus, Thurles) in now in progress.  It will prayerfully explore how Thurles Parish Pastoral Council can be formed so as to best respond to the needs and appreciate the gifts of the people of our parish.  This process aims to discern how best each person nominated can contribute to the life of our parish; be it as a member of our PPC or as a member of one of the many different pastoral groups in our parish guided by the PPC.  We aim to complete the PPC Training / Discernment by early May with a view to having our PPC established before the summer break.
THURLES PARISH PASTORAL COUNCIL: THE NEXT STEP:
A word of thanks to all who attended the presentations and participated in the discussions which has deepened our understanding of the role of a PPC in our parish. The nomination process began during our last presentation (Mar.30th) and we now invite parishioners to complete the Nomination Forms, available in at all Masses this weekend.  Completed forms can be returned to the boxes marked 'Parish Pastoral Council Nomination Forms' in both churches this weekend and in the Parish Centre before 5.00 p.m. on Monday next, April 3rd 2017. All persons so nominated will be invited to participate at a PPC Discernment Meeting on Tues. April 11th 2017 @ 8.00 p.m. in Lámh Chúnta during which the inaugural Thurles Parish Pastoral Council will begin to be formed.
                               We look forward to having you with us.
To access Archbishop Kieran's presentation, 'Laity: for the Future of Church' of Thursday March 2nd, click on this link:
To access Martin Kennedy's presentation, 'Parish Pastoral Councils (PPC's) – examples of good practice', Thursday March 9th, click on this link:
To access Noirín Lynch's presentation 'Christ alive in us today' on Thursday, March 23rd 2017, click on this link: 
To access Sr. Betty Baker's presentation 'Clarifying how people and Priests work together using a PPC model' on Thursday March 30th 2017, click on this link: