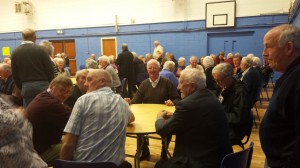 Thanks to our organising committee, supporters from Thurles and surrounding parishes, generous sponsors and the help of volunteers we raised €3,895.00. The great efforts of all involved in preparation for and facilitation of this event as well as work done on the night is much appreciated.
Winners
John Coleman & Michael Hackett (11)
Eileen Egan & Jimmy Kavanagh (10)
Tom Kennedy & Michael Martin (10)
Gerry Stakelum & Frank Mockler (10)
Tom Ryan & Tim Browne (10)
Phil McGrath & Liam Cleary (9)
Peter & Sadie Kinane (9)
Peg Ely & Brigid O'Dea (9)
Mick Power & Martin Dwyer (9)
Paddy Kelly & Michael Skehan (9)
Pat Fanning & P.J. Fogarty (9)
Once again thanks to all who helped out and a particular thanks to our sponsors who provided the prizes for our raffle and non-card playing ticket holders draw.