EXHIBITION OF CLUBS, ORGANISTATIONS & SOCIETIES, FEBRUARY 2016
Thanks to all who exhibited with inspiring effort, colour and style as well as the People & Priests Group whose sterling hard work ensured that the event was a mighty celebration of the generosity of volunteering in Thurles which continues to nourish and enrich the life of our local parish community.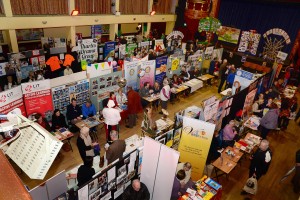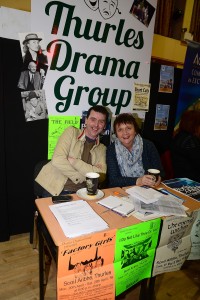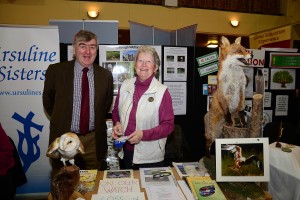 Keynote Speaker: Jimmy Duggan
Talk on Parish
Dia is Muire daoibh agus fáilte romhaibh chuig an cheiliúradh seO ar shaol agus ar shaothar muintir Dhúrlas Éile.
My family belong to the parish of Thurles for generations.My grandfather, Jim Hogan,having milked cows in Smee's field every morning in Garryvicleheen, was forever grateful to the maid in Dr. Jackman's(now Dr Jim Moloney's) who left out plates of bread and butter for all the boys from Garrif on their way to school – seeing the need in hungry faces of the 1890's, she responded in a kind and practical way. Timmy Maher of St. Mary's Lane, a contemporary,remembers the Foresters in their highly coloured uniforms marching to Mass with their sashes and feathers at the turn of the last century and notes  "but they weren't all show,many's a poor soul they helped in this town and often out of their own pockets too". My own earliest memory of that collective unobtrusive service of giving which is at the heart of parish is a memory from the mid fifties of a warm summer's day at Lady's Well, packed with children from all over the town, laughing and splashing, while quietly at the bend of the river, a group of young men in dark clothes,sleeves and trousers rolled up,standing in the river,tanned and smiling as they built a dam from the available stones on the river bed to deepen the river in order to make a proper swimming pool.In the evening we danced in the Mill Road barefooted and washed the tar from our feet with butter.We know now that the thousands of random acts of kindness and service are the building blocks of identity, self esteem and  rootednesss essential to harmonious development of personality throughout one's life.As young people and particularly in a small town that Thurles was until recent decades,one seldom was aware of the range or depth of the generosity of spirit in the immediate community and how that realization gave us our pride of place,our sense of parish.Sporting occasions were often the touchstone. When Mrs Bermingham painted the green pump blue on the borders of her parish on the early morning of a county final in the sixties ,she definitely knew what parish was all about.I remember turning the bend at the top of the square at the Corpus Christi procession in the same mid sixties and in my white surplice and red soutane of a cathedral altar server, I was amazed to see our next door neighbour in the green uniform and Sam Browne belt of An Fórsa Cosanta Áitiúil,the ephemeral sky blue,so tellingly captured by Louis le Brocquy, of the children of Mary (my late mother included) and the sterness of the dark suited,dark haired,solemn band of men(including my uncle who with his stories and songs would have our kitchen reduced to tears of laughter on previous nights)behind the metal shields of saints of the Holy Family Confraternity.One could not but feel a part of something much greater than oneself and so happy to be part of a celebration albeit rooted in a hierarchy of duty and obligation,obedience and conformity,fear and guilt and punishment.Apart from the singing of the hymns which had mostly slow and silent airs, Soul of my Saviour, Sweet Heart of Jesus,there was a silence,like the silence in Queenie Moloney's library,a reverence,a murmur of Rosary a quiet that belied the fun,the devilment and the energy of each and every band of brothers and sisters in that evening parade..
Of course ,at that height and intensity we should have been introducing change. The time had come for new modes of participation in parish.All that new energy for instance in song ,music and dance of the period. These new modes of participation were often spancilled by blind obedience and unthinking conformity. We needed to have a sense of belonging in a more adult way ,in a thinking and questioning way.
Any parent of adult children will tell you that this is a wonderful place to rear children-perhaps your child attends the Gaels,Peake Villa or Takkwando in Knox Hall or you have been fortunate to collect your teenage child from that bubble of energy ,sound and laughter that is Phoenix productions or perhaps have been grateful that your child has experienced the sound of a quiet breeze through the reeds of Cabra Wetlands at twilight with the Scouts or Guides-then you are aware of the generosity of spirit that is Thurles today. What may not be as evident is that sense of togetherness and community.As each,at different age band in their busy lives embrace different activities it is not as clear as it was in that evening procession of the sixties that there is a unity and commonality to services and aspirations of so many diverse groups located in the parish.Today,if you walk away with the "I never knew they existed" feeling or a growing realization of part of a greater whole,then the work of the organizing committee shall have been well worthwhile.Please take time to visit as many stalls as possible ,not just the ones that seem familiar or those that are manned by friends or acquaintances.I think that you will have a similar experience to that of the hundreds of schoolchildren who visited yesterday..
Take for instance the small room off the bottom of the hall. Today, where we shared many an adolescent bottle of orange or lemonade on the path to adulthood-in that small space the mid tipp hill walkers,the Vintage club,the Special Olympics,The hospice/suir haven,pheasant island,Knights' Basketball,Comhaltas and Durlas Óg.Diagonally opposite,the enticing smell of Polish food wafts through the door accompanied of course with the colour, the laughter,the courtesy and quite simply the joy of living that characterizes many of our more recent and very welcome residents.In between we have the whole panoply of activity that would light up any parish.
There are a number of barriers to participation in one'club, society or parish and I think that we would all agree that participation and particularly inclusiveness are the key measurements of success with regard to community organizations and indeed parish.
The most powerful barrier is complacency.Although what goes on in a club may be unappealing and unattractive particularly to young people,there may be many who attend out of pressure to conform. Because everybody goes and is expected to go there is an inevitable sense of complacency – we come to prefer coma to challenge. Instead of taking up the challenge of a new demography or changed aspirations of a younger generation, we keep the head down and grow comfortable in past achievements and content to be there we let the course of the organization take the same old path. We end up going through motions that are dull and dead. Many clubs have no history of trying to connect with people in creative new ways. Our thinking has been "Come back to us!"as we are. We are not thinking of changing. Vibrant,challenging,totally inclusive,reaching out,accommodating difference,mindful of changed circumstances etc. are not part of our lexicon. Are your expectations of your members routine and unchallenging or is your organization cultivating a new mood of joy or new modes of participation. Of course ,this may cause tension but you can overcome inertia,you can draw on your own identity and unique energy.
Tomorrow flows from today. Tomorrow's organization and indeed parish reaches out and reaches in. There are a number of options as you face the future of your organization or as we look at the future of the concept of parish. One is to ignore any issues,circle the wagons,go on as before-sure 'twill see us out anyway.Then there are those who choose to deplore what is happening out there-they deplore the materialism, facebook, emigration, smartphones for First Communion, parenting practices, what is happening within the organization etc.,etc.,etc.  In all these options there is little inclination to reach out or indeed reach in. All the problems are "out there."  These two options of ignoring and deploring are heading for slow and sure extinction.The third option may be to restore but we don't want to confront why people left in the first place-we naively just want to restore. Reaching out and reaching in are the same process. When inreach and outreach go together, we are no longer trying to restore,ignore or deplore.We are trying to explore-explore new ways of being who we are,new ways of engaging with others,bringing a new sense of hope,a new sense of responsibility.This is the challenge for each and every organization here-this is the challenge for the parish of Thurles in the years ahead.We must begin to listen again,to rediscover who and why we are,to reconnect,to think "everybody",and above all to think getting involved.
From the Parnell players of the turn of the 20'th century to the Syrian card playing group of today, Thurles, even with its peeling paint,boarded up shops and decrepit lanes was always a lively, social, inclusive place for its citizens ,young and old. Lets's take on the challenge of today and ensure that the eternal question: Where are you from?, asked increasingly in every far flung quarter of the world will be answered with the same deep pride that has characterized its citizens through the generations-THURLES is my parish, my home.