HOLY WEEK CEREMONIES LIVE STREAM 2020: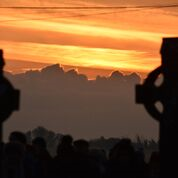 Holy Week Ceremonies available on live stream @ www.thurlesparish.ie:
PALM SUNDAY: MASS: 11.00 a.m.
LENTEN EVENING PRAYER: 7.00 p.m.
We invite you to cut a piece of palm and if you are joining us on either live stream or on the radio we will offer a blessing of Palm as an alternative to what we normally do.  'The Blessed Palms: As we place this palm in a special place in our home, may it be a reminder, Jesus, of your great unconditional love for each of us.  May it be a source of protection for us all the year through
HOLY THURSDAY: MASS OF THE LORD'S SUPPER – 7.00 p.m.
PRAYER IN THE GARDEN OF GETHSEMANE – 9.00 p.m.
GOOD FRIDAY: THE LORD'S PASSION – 3.00 p.m.
STATIONS OF THE CROSS – 7.00 p.m.
HOLY SATURDAY: EASTER VIGIL – 7.00 p.m.
EASTER SUNDAY: 11.00 a.m.
R.T.E. will be broadcasting Holy Week Ceremonies.
FAITHCAST is a mixture of interviews, news and stories of faith from the Catholic Church in Ireland. The podcasts will be available on www.catholicbishops.ie